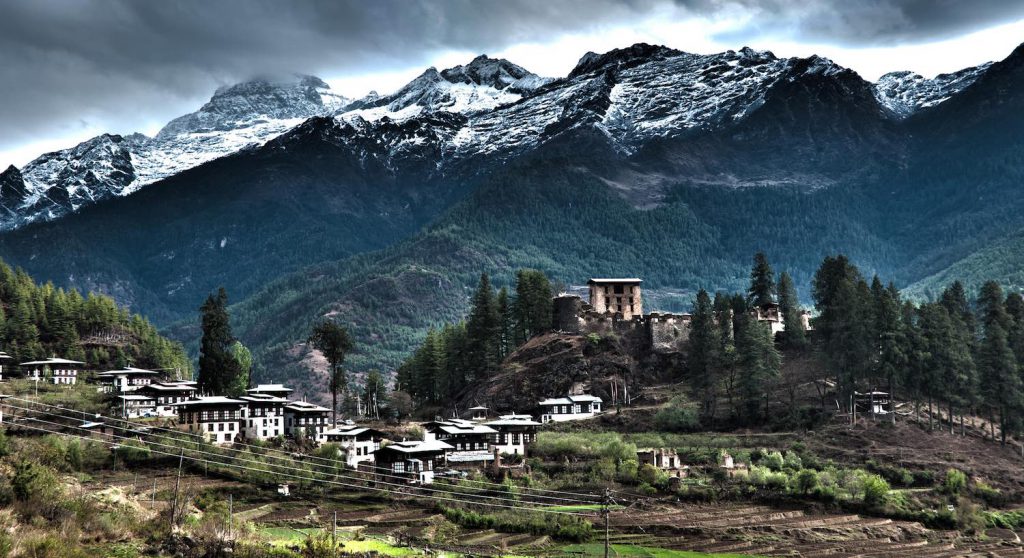 Bhutan has evolved from a feudal society that was sparsely scattered over the rugged mountain terrain, to a polity governed by the clergy and civil administration, to a progressive farming society in a relatively short time. The Land of the Thunder Dragon entered the new millennium with a modern bureaucracy trying to resist being completely overwhelmed by the forces of globalization.
Until the 20th century the leadership of the country was mostly mythological figures. The 8th century saint, Guru Rinpoche, introduced the Buddhist culture that still binds society today, and Zhabdrung Ngawang Namgyal established the notion of nationhood in the 17th century. The establishment of hereditary monarchy in 1907 established Bhutanese history as it is best known.
The first two kings, Sir Ugyen Wangchuck and King Jigme Wangchuck, consolidated the nation under an absolute monarchy with a traditional hierarchical culture of governance. The kings ruled the people directly from the royal court and the largely ruled society developed along the relationship between the king and the people, the king's responsibility being to look after the people and the people owing to him their reverence.
All this time, Bhutan felt the perceived threat of small countries and chose to remain in complete isolation with no contact with the world.
The third king introduced the concept of modernization in the 1950's and began the formal process of planned modernization in 1961. India became the main supporter and Bhutan gradually opened up to the world by establishing links with the United Nations in 1972 and eventually 21 other countries.
The fourth king of Bhutan, His Majesty Jigme Singye Wangchuck, took over in 1972 and accelerated the development process. The country saw phenomenal achievements as it built roads and bridges, schools and hospitals, and telecommunication and power infrastructure. Although the traditional agricultural lifestyle is still promoted, modernization today also means that more Bhutanese are living in cities and towns.
In December 2006 the Fourth Druk Gyalpo abdicated the throne to his son, Jigme Khesar Namgyel Wangchuck, in preparing the country for the dramatic transition to democracy. And in March 2008, after 100 years of absolute monarchy, the country was transformed into a parliamentary democracy with its first democratic elections. By a large majority of popular vote, the Druk Phuensum Tshogpa (DPT) or Bhutan Harmony Party, became the first elected government in Bhutan. Led by Prime Minister Jigme Y. Thinley, DPT promises to lead the country with integrity and justice as its foundation, and in keeping with the royal vision of GNH, or "Gross National Happiness."
Throughout this process of evolution, however, Bhutan is determined to be guided by the values and priorities that have helped it to remain a unique country in a rapidly changing world.